Into the sunset?
WOOO! And that wraps that chapter up! *Dances*
I really like the way the skyline came out on this one! Surprisingly very happy with it!
So this means that we'll be kicking off Making it Official with the next update! :)
Speaking of Making it Official?
I'm far enough ahead at this point that I am going to TRY to maintain a 2x a week updates schedule for MiO! Hopefully until the conclusion of the comic. :) This will begin next week with updates on Monday's AND Fridays!
Spiderforest Kickstarter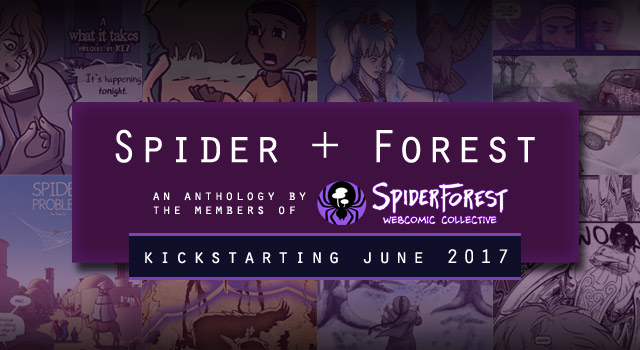 The Spider Forest Anthology, VOL1's Kickstarter has gone LIVE.
Twenty Spiderforest creators have contributed stand alone comics that somehow incorporate the theme Spider + Forest! There are some really wonderful interpretations of the theme!
As a backer you can get some really fabulous rewards, such as sticker, pins, coloring books, personalized art and even cameo's in your favorite comic's pages.
My contribution is "Spider Warrior" a seven page, standalone comic about an anthro-arachnid just doing what a spider warrior does. Hunt - fight - protect.
New Podcast!
A new week hails the arrival of a brand new podcast, this time talking about the art of planning for, attending, and being successful at conventions! Check it out!
Greetings
While David knows about Tom's anomalies, Tom is still not comfort around others.
Patreon
Did you know I have a Patreon account? For as little as $1 a month you can help support the time and effort I put into each and every page. Money raised helps me pay for hosting and suports the nearly eight hoursa week I put into making this comic happen.
Patrons get early access to comic pages (currently a week before they go live here!), higher reward tiers see concept work for other project, novel downloads, and more!