Making it Official Cover
EEEEEEEEEEE!!!! I am at once ecstatic and terrified to be in this moment! I've been DYING to get to this chapter, and I will be sad to see this story come to its conclusion after ELEVEN years on the internet! O_o
Guess what's happening in this chapter, anyone? Anyone? Three guesses and the first two don't count! :)
So...I've been batting it around and for as long as I can I am goign to try to do TWO updates a week until this title is finished! I have NEVER managed that one in the entire Eleven year run! Luckily I'm on vacay, and by the time we get to this point I SHOULD have at least four more pages done up for your consumption! :)
Check back on Friday for the inaugural double update week! WOO!
Spiderforest Kickstarter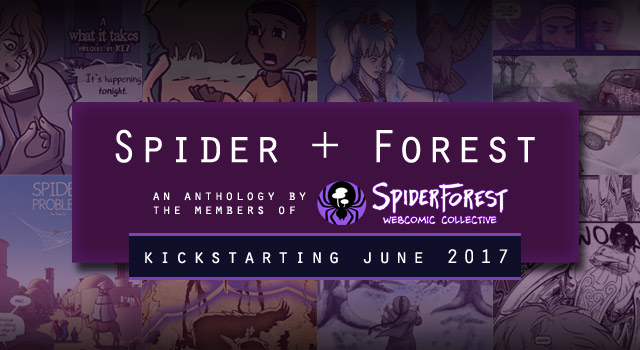 The Spider Forest Anthology, VOL1's Kickstarter has gone LIVE.
Twenty Spiderforest creators have contributed stand alone comics that somehow incorporate the theme Spider + Forest! There are some really wonderful interpretations of the theme!
As a backer you can get some really fabulous rewards, such as sticker, pins, coloring books, personalized art and even cameo's in your favorite comic's pages.
My contribution is "Spider Warrior" a seven page, standalone comic about an anthro-arachnid just doing what a spider warrior does. Hunt - fight - protect.
Spotlight on Creator Prints
For a $50 pledge, backers get not only the Anthology in PDF and print, and their name in the book, they also get to select four prints from a collection of Creator Prints. Above is only a couple of over thirty images you can choose from!
All glossy 8x10 prints come on 100lb card stock!
Consider pledging at the $50 level to take advantage of this awesome opportunity.
Check out this and other pledge tiers at the SpiderForest Anthology Kickstarter Page!